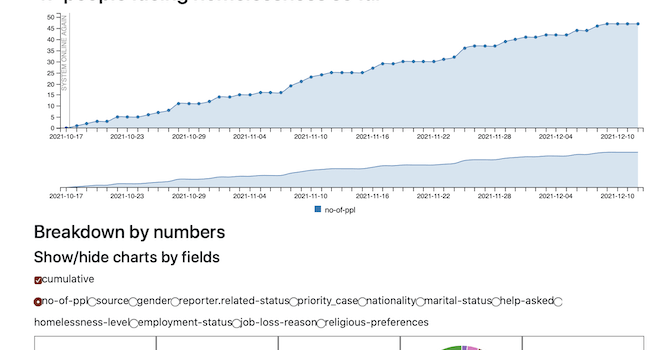 What is this project about?
The #CityOfRefuge app is a web app that uses a real-time database to coordinate responses and help remind befrienders via WhatsApp / Telegram of on-going needs of their homeless friends in the community. It is designed to be flexible and scalable to handle more than a thousand homeless people at a time – such as the recent Circuit Breaker period.
You can visit the public form at https://help.homeless.sg that allows social workers, homeless people, and members of the public to seek help.

To view the latest statistics and updates, you can visit https://help.homeless.sg/dashboard.

For case management, the following backend has been created for our volunteer case trackers to use.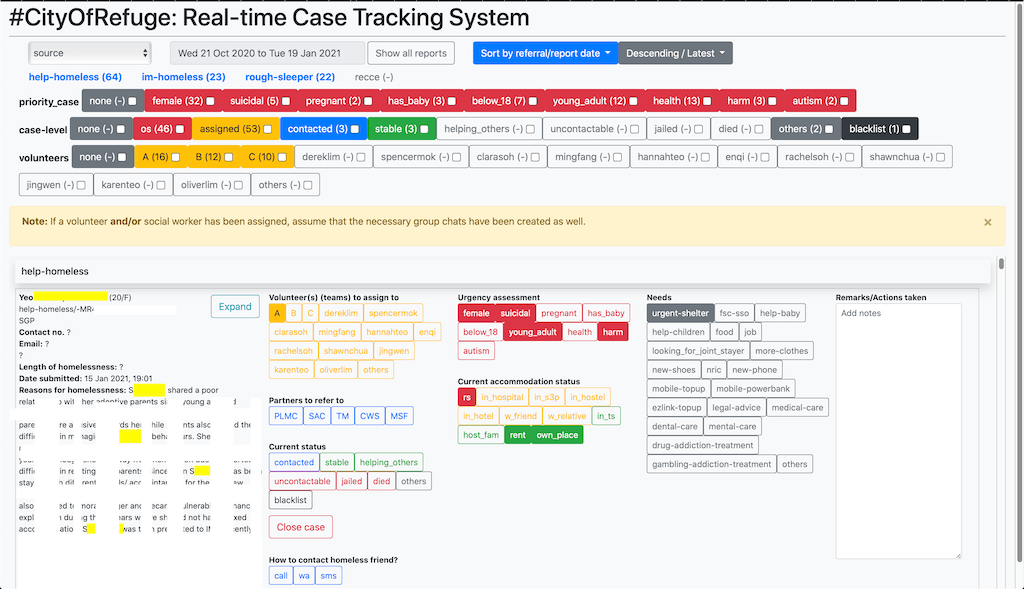 Why is there a need for this project?

Currently, the befriending groups in Singapore have to rely on their own memories and teams to keep track of the different types of homelees people.
The systems that exist (e.g. SSNET) to help homeless people are mainly designed to support the government and social workers. These systems are focused on getting the homeless to receive welfare support from the government but do not have any facilities to support community-driven efforts to help support relationship-building efforts by the befrienders. As a result the befriending groups have to resort to manual tracking of their homeless friends to make sure they don't fall through the cracks.
In addition, when members of the public or the homeless people themselves ask for help, the information gathered is often limited – such as the public reporting rough sleepers but not their location. As befriender groups are usually made up of non-professional volunteers, they often do not know the right questions to ask which will be helpful for social workers to use.
As such, the homeless people may be asked the same questions again and again, which has proved to be emotionally distressing for some of them.
Also, there is a lack of a proper system to collect data that the befrienders on the ground have access to. As such, whatever data is collected often tends to be done once a year in batches – which may be good for gaining a general overview of the homelessness situation in Singapore but lack finer details of the day to day situations of the homeless. And current survey systems are not able to accurately distinguish between primary, secondary or tertiary levels of homelessness.
Lastly, the forms that are used to collect the data are often done in a detached and impersonal way. We need more humane forms that ask questions in a more conversational and kinder manner. Often, their emotional and mental states are not even asked. Our redesigned forms aim to provide space for them to tell their stories.
Who will benefit from this project?
The homeless themselves:

Primary: Rough sleepers
Secondary: People staying in shelters
Tertiary: People at risk of becoming homeless

Fellow community partners helping the homeless
Befrienders
Advocates
Social/case workers
How will the target audience benefit from this project?
The homeless can send in their information directly via a simple form that also asks them how they are feeling, and gives them empathetic space. Data extracted from the forms will be useful for befrienders, social workers and shelters to make more informed decisions. Also, the system is capable of providing real-time updates and reminders on important personal details such as reminding befrienders of their homeless friends' birthdays and showing where the nearest possible help can be found.
How can we support this project?
You can financially support our co-founder, Abraham who is currently working full-time on this project (while being a stay-home dad too).
To do this, you can visit the Support Financially page to donate to HHOS. Please indicate in your donation message that you specifically wish to donate to Abraham for the #CityOfRefuge app project. This is necessary for transparency and accountability purposes. Otherwise your donation will be earmarked for general use such as hostel support and food.
Thank you and God bless!